The tank controller is one of the main machines in Aquaculture mod,this machine is used to access the whole tank including:filling/emptying the tank with water,putting fish in and getting it out of the tank as well,it also gives you some important options needed when breeding.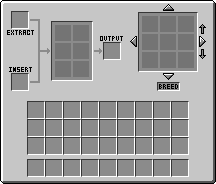 The way of input into this machine is by "EXTRACT" and "INSERT" slots.Output is only via "Output" slot.the slots between them are the machine's inventory,the 3x3 slots are the tank itself.
Insert:this slot accept:
1-Water bucket:Fill the tank with water,two buckets are enough to fill the whole tank.Output:Empty bucket.
2-Fish bucket:if there is empty 3x3 blocks of water inside the tank it will accept this input,and put fish into the tank.Output:water bucket.
3-Sea kelp:it will take it to the machine's inventory,when clicked it will be targeted,when clicked again in the tank slots it will plant the kelp(Only on ground).No output.
4-Bowls:just as sea kelp,inventory,target,click,tank!but unlike sea kelps,these can be put into any empty slot.No output
5-Iron bars:will automatically go to the planted sea kelp,is none is planted or all are protected it will go to the Output slot.
6-dirt:goes to inventory,if u choose any 3x3 floor and click on it while targeting dirt it will fill the floor with dirt.useful when u have a big tank and no place for kelps
Extract:
1-Empty bucket:get water out of the tank.Output:Water bucket.
2-Water bucket:Get a targeted fish from the tank.Output:Fish bucket.
The tank:
this 9 slots will give you access to the whole tank.so the 4 arrows around it are left/right/front/back.the two little arrows are the up and down.you can,using those,view the whole tank from this machine.
Breed:
click it and target two fishes in the tank and get the party started.